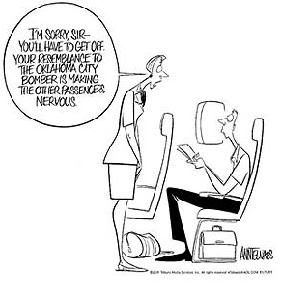 So it turns out that in neither of the cases
involving the Michigan men nor the Texan men
that there was a terror plot. As to why it was thought the men from Texas were going to blow up the Mackinaw Bridge (emphasis added):
"William Kowalski, assistant special agent in charge of the FBI's Detroit field office, said authorities believe concern about the bridge was connected to images of the Mackinac Bridge found on a digital camera belonging to the men."
Hmmm imagine that. People not from Michigan taking pictures of a famous bridge that thousands of tourists take pictures of year round. That's some top notch police work there. Someone has a picture of a landmark on their camera, so tell the media that the suspects were planning on blowing it up. Quality.
So why did these young guys have so many phones? They were
trying to turn a profit reselling them
:
"From Dearborn to Troy to Sterling Heights, Arab Americans are a major part of the cell phone business in southeastern Michigan. At least half of the cell phone businesses in the region are owned by metro Detroiters of Arab or Chaldean descent, say business owners in the industry. Many new immigrants or emerging businessmen earn money by buying the cell phones and then selling them to gas stations, distributors or stores.

Snip

Here's how the practice sometimes works, said Nasser Beydoun, head of the Dearborn-based American Arab Chamber of Commerce:

An independent entrepreneur will buy the phones for, say, $8 each. He will sell them to a distributor for $12, making a $4 profit. Multiply that by a thousand -- about the number of phones the three men arrested in Caro bought in total -- and you have a $4,000 profit.

The distributor then will sell the phones at a higher price to gas station owners, who in turn sell them at a marked-up price."
So the crime here is that young men of Middle Eastern descent were running a business venture. Damn those capitalist bastards. We better start pulling over Wal-Mart trucks.