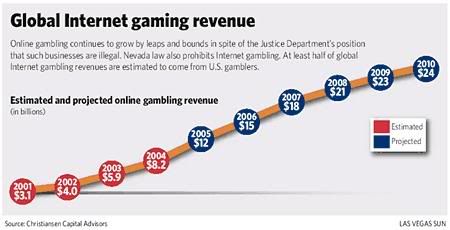 With online gambling being such a hot commodity these days that the
federal government wants to ban it
and with the fall sports season gearing up, I decided to check out some of the lines being offered. I love the
political lines
out there:
"Bet On: Who will be found first: The body of Jimmy Hoffa or Osama Bin Laden?



Any wagers placed after outcome becomes public knowledge will be graded as No Action. No refunds. No over limit wagers. If Jimmy Hoffa's body or Osama Bin Laden have not been found by December 31st, 2006, all wagers will be graded as No Action. Max $100.



Jimmy Hoffa +230
Osama Bin Laden -360"
Don't ban this stuff. Treat it like the rest of the gambling and gaming industry. Regulate it, tax it, and get a slice of the pie. As with the current
war on drugs
, haven't the feds realized that blanket illegalization and bans only produce and promote criminal societal issues? Get to the real issues folks.
And incase you're curious, below you can see how much the gaming industry has made each year for the past ten years. The
$100 billion
mark is projected to be cracked by the end of the decade. The U.S. casino lobbyists are probably foaming at the mouth and dropping some serious money to get this legislation passed. Now there's some numbers that would be interesting to see.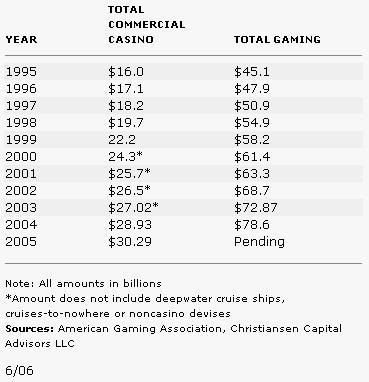 Growth from 1995 to 2005 in both the commercial casino industry and gaming as a whole, which includes pari-mutuel wagering, lotteries, casinos, legal bookmaking, charitable gaming and bingo, Indian reservations and card rooms.